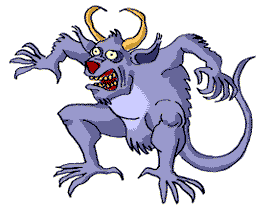 Creating aliens and other fantastic creatures has to be one of the best parts of this job. In one sense, it's like being in charge of your own private zoo, with no limits on the habitat you can provide for your animals. In another, it's like having your own community of friends and odd-fellows and visitors, who can provide all sorts of interesting conversation that you just can't get anywhere else.
Did you think we were leaving the subject of characterization behind? By no means. When you create nonhumans, whether they're aliens from the center of the galaxy or unicorns from the enchanted wood, you're creating characters. Important characters, too, in many stories.
(By the way, although much of what we're saying here can apply both to science fiction and to fantasy, I'm as a matter of convenience going to use the term alien to refer to non-earthly, non-everyday creatures of all sorts. Some of the issues to consider, such as planetary environment, obviously are of greater interest to the SF writer.)
Now, one of the greatest freedoms of storytelling in words, as distinguished from, say, SF on television, is that you can make your aliens truly alien. Of course, special effects are getting better all the time, so we're starting to see more imaginative nonhumans on the screen; but think how many times you've seen aliens on television that looked like humans with bad hair and rubber masks (which is exactly what they were). The reason for that, of course, is that the only actors currently available—not counting dogs, cats, and the like—are human. The ASAG (Alien Screen Actors Guild) has not yet made inroads into Hollywood.
But you, fortunately, do not face the same limitations as those producers with the multimillion-dollar budgets.